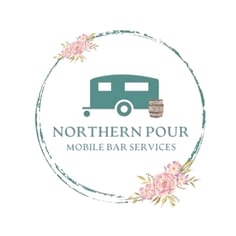 Frequently Asked Questions
Do you bring the alcohol?
We do not bring the alcohol (we wish we could!). Liquor laws in Ontario do not allow us to. Depending on the location of your event, you may need to obtain a Special Occasions Permit (SOP) through the Alcohol and Gaming Corporation of Ontario (AGCO). If the event is at your property, no need for the permit, you are clear to host!
So, you provide the alcohol and we will take care of the rest! Not sure what to buy? Don't worry - we will work to ensure a full list is created based on what you would like to offer as the host!
What about insurance?
Everything that comes with the Northern Pour mobile bar is insured. As a mobile bar, we have General Liability & Liquor Liability insurance. All of our bartenders are Smart Serve certified as well.
What is the cost?
We cannot stress enough that we realize each and every event is unique - please don't hesitate to reach out if you would like to discuss your vision, how we can customize your experience and how this might impact the final cost.
For a free consultations & custom quote for your event, just fill out our online form on our "Contact" page. We love hearing from you!

Small Events (Under 50 people)
Our services typically start at $550.00 (without alcohol included) for events with under 50 people. However, our base price is determined by how many hours your event will be. Every event is different & we encourage you to reach out for a quote.
Large Events (50 + people)
Our services typically start at $950.0 (without alcohol included) for events with over 50 people. Our base price is determined by how many hours your event will be.
Add-on Services
You can always add unique custom services to your rental - from specialized cocktails or interactive drink stations, we offer a variety of unique options! If you have a vision for your event and you don't see it listed here, please reach out - if we can do it, we will!

Caesar Bar: 150.00 (25 people)
Champagne Wall & 80 glasses: 150.00
Flower Arrangement for front of bar: 100.00
Please contact for a quote for:
Customized Sign on front of bar
Custom made, personalized glassware for special guests
Specialty drink to represent guest of honor
Balloon Garland through Tickled Teals Entertainment

How far will you travel?
Our mobile bar is exactly that – mobile!
We will travel to you, near or far. With every trailer rental, comes 50 km of travel. If your event is taking place more than 50 km from North Bay, there will be an additional travel cost. Reach out for your custom quote today!